In this post, I'll share with you 31 simple diamond mangalsutra designs that you'll absolutely love.
These days brides choose modern mangalsutras that are a bit more simple and delicate to wear on daily basis.
Who wants to wear a really heavy traditional mangalsutra in modern times?
You may have noticed that brides no longer wear their traditional elaborate mangalsutra since it doesn't suit on work or casual outfits. Thus, the mangalsutra ends up in the bank safe and only to be worn during traditional Indian festivals or weddings.
Although every culture has different mangalsutra requirements, brides these days are more open to mangalsutras that are actually wearable and go well with western outfits. In the end, a mangalsutra has no meaning if it's not worn.
In this article, I will share with you very unique designs that I've created that are simple and sophisticated to be worn every day.
Are you ready for an exclusive collection of simple mangalsutra designs that you won't find anywhere else?
1. Kohinoor Diamond Mangalsutra
As a child, I was always fascinated by queens and princesses. Their outfits and jewels were mesmerizing.
These fond childhood memories led me to design the Kohinoor diamond mangalsutra. This perennial piece stands for simplicity and royalty.
The center of the Kohinoor mangalsutra pendant is made of moissanite. Moissanite is a synthetic mineral that the look and feel of a diamond.
You can opt for a 1.0-carat center diamond instead of a moissanite.
But moissanite center stone is a cost-effective way to get the same look without breaking the bank.
The pendant comes with a simple white gold chain with black beads. Kohinoor is a beautiful, simple mangalsutra choice if you're planning to wear the piece daily to work or in a casual setting.
2. Peony Diamond Mangalsutra
Speaking of delicate and feminine mangalsutra that goes well in the modern times, this simple mangalsutra is an exceptional choice.
The special Peony diamond mangalsutra gives us a boho vibe.
It consists of a simple yellow gold chain with black beads and gold beads arranged alternately in a beautiful way.
You don't have to have black beads all the way throughout the chain.
We can also be creative with the position of black beads based on your preferences and style.

3. Tassel Long Chain Mangalsutra
These days there is a trend for women to wear a long 36" chain mangalsutra that is modern, simple and delicate.
Traditional mangalsutras with longer chains can be uncomfortable to wear and feel out of place with western outfits.
The design of a Tassel long chain mangalsutra was born from a long chain custom mangalsutra request from one of my clients. As the design has been so popular, we decided to add it to our portfolio.
This designer mangalsutra has a long tassel necklace made of 18K antique finish gold chain. There are a few black beads in the front to accentuate the tassel.
Since I can't live without sparkle, I added some diamond balls in a "polka dot" fashion.
This addition gives the mangalsutra a subtle sparkle and shine.
This a wonderful style if you like to wear your mangalsutra every day at work or for leisure.

4. Moonshine Diamond Mangalsutra
This is designed keeping in mind a beautiful lady who simply loves solitaries.
The beauty of this piece comes from the pressure setting technique that fuses marquise and princess shaped diamonds to give a solitaire-like look.
You can get 5 solitaire-look diamonds for a fraction of the cost without compromising the beauty and look.
This is a  timeless design for any age group. Simple and elegant.
I've seen many Bollywood celebrities like Aishwarya Rai and Shilpa Shetty flaunting similar style mangalsutra.

5. Trance Diamond Mangalsutra
The next mangalsutra, Trance, was also a custom piece designed for one of my brides. She wanted something extremely unique and different.
She also had an existing wedding ring with pear-shaped diamonds.
Her desire was to have her mangalsutra to match her ring.
So she asked us to make the magic happen for her dream mangalsutra.
In order to match her mangalsutra with the ring, we used fancy cut diamonds in an arc form, as she really loved the arc shape.
To add a bit more thrill to her mangalsutra, we added a few black beads in the front, on both sides of the pendant.
This is one of my favorite designs as it very new, novel and interesting.
This one mixes elements from three different mangalsutras – Jasmine Mangalsutra, Modern Mangalsutra and Crescent Mangalsutra.  
6. Valencia Diamond Mangalsutra
Valencia is a petite design using our favorite fancy cut diamonds.
It has a delicate mangalsutra shape to go well with any neckline you may be wearing.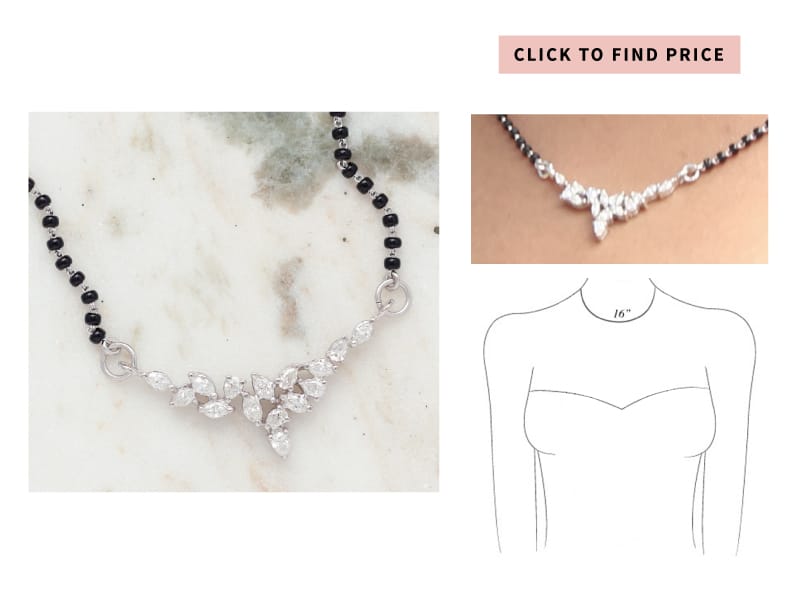 If you love black beads and simple pendants, this is a perfect choice. This mangalsutra would go well with traditional Indian clothes, tunics, and sarees.
7. Oriental Diamond Mangalsutra
Not everyone likes geometric shapes and forms. This led to the creation of floral mangalsutra designs.
The Oriental mangalsutra in rose gold brings out the feminine nature of a woman while still keeping it simple with a nice gold branch and a couple of diamond leaves.
This is a very simple mangalsutra design can be worn on special occasions or daily.
You can also customize the mangalsutra in a metal of your choices like white gold or yellow gold.
8. Divyanka Tripathi's Diamond Mangalsutra
There is the big trend of wearing mangalsutras in our favorite soap operas.
On the big screen, you'll see many lovely brides wear their mangalsutra daily.
Actresses Divyanka Tripathi, Surbhi Chandra, Mouni Roy are also married in their real life.
Divyanka Tripathi knew that mangalsutra is one of the most important pieces of jewelry during a wedding.
Although mangalsutra is generally purchased by the groom's family, she decided to go with her husband Vivek Dahiya to choose a design that both of them love.  
She wanted a dainty mangalsutra.
Vivek liked the winged shaped mangalsutra with a light pattern that you can see below.
It's lovely, simple and elegant.
Here's a mangalsutra tip that Divyanka shared about choosing a perfect mangalsutra, "There are tons of mangalsutra designs available online.
Since mangalsutra is an Indian piece of jewelry for traditional outfits, these days all Indian women don't just wear Indian clothes all the time.
So when you choose a design, make sure its Indo-Western style, so it goes well with all different outfits."
Divyanka also adds the there are some occasions when she cannot wear a mangalsutra in the neck. So her lovely husband Vivek brought her a mangalsutra bracelet.
Vivek said to her that she can wear the mangalsutra bracelet when you cannot wear your mangalsutra.

9. Surbhi Chandra's Kundan Mangalsutra
Now let's talk about Surbhi Chandna who play a role of Annika in the soap, Ishqbaaz.
She believes in the fact the more simple a mangalsutra, the more beautiful it looks.
For the television show, she chooses a simple kundan pattern in a beautiful black beaded chain.
Surbhi says her mom has a similar piece with extra diamonds in it. Since our generation is a bit more modern, and she actually prefers to do similar to what Shilpa Shetty does.
For example,  she wears her mangalsutra in her hands and calls it a mangalsutra bracelet.

10. Mouni Roy's Diamond Mangalsutra
Mouni Roy's simple mangalsutra is timeless piece. Mouni plays as Shivangi in Naagin 2.
In this series, she wears a very simple one diamond mangalsutra.
In real life, she prefers simple sophisticated pieces that are not in the face.
I think this short length mangalsutra is gaining much popularity as it is versatile, simple and timeless piece.

11. Sonam Kapoor's Zodiac Diamond Mangalsutra
Sonam Kapoor got married with Anand on May 2018. It was the most awaited and a visual treat to all the fashion lovers.
Sonam Kapoor paid attention to the things that mattered to her which included the outfits, jewels, decors and most importantly Sonam Kapoor's custom mangalsutra.
The idea here was to basically combine the zodiac signs of the bride and the groom as cute gold and diamond charms with a diamond solitaire in the center.
Sonam's zodiac sign is Gemini and Anand Ahuja's zodiac sign is a Leo.
The mangalsutra charms were a symbolic representation of their sun signs coming together and becoming one with the diamond solitaire at its heart.
I absolutely loved the concept.
Want to explore more zodiac mangalsutra designs?
Zodiac inspired mangalsutra designs will warm your heart.
And if you would like to create your own zodiac custom mangalsutra, you can contact us for your custom mangalsutra design.
So above are some of the designs that the actresses chose based on their personal styles.
But there is one thing they all have in common – they wanted a simple mangalsutra yet delicate and modern.
12. Constellation Diamond Mangalsutra
This is a very modern and dainty mangalsutra design for the modern bride.
If you would like a beautiful mangalsutra that doesn't look too bold but stylish, Constellation is a great choice.
This is a design by which you can achieve the modern look as well as stay connected to our roots.
The design has three black beads in the front and the rest is a delicate gold chain.  
The pendant is made up of round and baguette diamond shapes arranged in an organic constellation pattern. I think it's perfect daily wear mangalsutra.
13.Lariat Diamond Mangalsutra
Lariat Mangalsutra is a very sleek design with just two black beads in the bottom.
It is a classic lariat style design that's simple and perfect for daily wear.
The piece is designed as a mangalsutra but it is not recognizable as traditional mangalsutra.
With changing times, this is a modern alternative to be able to preserve traditional values.  
It also has one baguette diamond that is fixed and ties the chains together.
14. "String of Lights" Gold and Diamond Mangalsutra
String of Lights mangalsutra design is inspired by the charm mangalsutra trend. I wanted to create a design that is simple and playful.
This is a unique design that has black beads as little charms placed on a delicate gold bar.
The center of the pendant consists of a pear shape diamond to add a little sparkle to the design.
If you love playful simple jewelry this design is perfect for you.  
15. Pia Diamond Mangalsutra
Pia diamond mangalustra design is a very delicate and simple design that included a V-shaped diamond studded gold bar.
It is ultra-modern with it form and has only three delicate black beads on either side of the pendant.
You can make this design in yellow gold, rose gold, and white gold.
16. Daisy Diamond Mangalsutra
Daisy diamond mangalsutra is a simple mangalsutra with a bit more sparkle. The design involves using a cluster of round diamonds.
A round diamond solitaire mangalsutra inspired by the European daisy flowers.
Available in white, rose, and yellow gold. Premium mangalsutra chain.
This is a special design is simple and versatile designs you can wear this with Indian and western wear.

17. Pole Star Diamond Mangalsutra
Pole Star refers to a bright star, that is generally closest to the north and south celestial poles of the earth.
Inspired by the Pole Star, this simple diamond mangalsutra has a gold arc-shaped pendant with 18K gold balls on the sides.
This is an extremely simple design and the size of the diamond can be adjusted based on your budget or liking. A minimum of 0.2 carat diamond is recommended for the piece to look visually balanced.
It's simple and perfect for everyday wear.
18. Vendure Diamond Mangalsutra
Vendure Mangalsutra is inspired by nature and how it represents freshness in a relationship. It includes two leaf shaped motifs connected by a diamond in the center.
Vendure is an extremely simple design with feminine nature-inspired elements.
19. Fantasy Diamond Mangalsutra
Fantasy is a mangalsutra design that is extremely fun and iconic style.
It is designed for a woman who loves out of the box designs.
It includes a few square geometric forms arranged in an eclectic manner.
I feel it gives like the pop music, younger vibe to the mangalsutra.
20. Peace Diamond Mangalsutra
Peace mangalsutra is inspired by the meditative form of the pyramids and arrangement of three of them in a line to create a simple and modern mangalsutra design.
It's simple and geometric forms makes it in an ideal daily wear piece.

21.Harmony Diamond Mangalsutra
Harmony mangalsutra is derived by the simple motif that indicates harmony in a relationship.
It's a beautiful pattern that is evolved from the fusion of forms and fluid nature of a heart-shaped motif.
Very simple and elegant mangalsutra design for the modern bride.
22. Falguni Diamond Mangalsutra
The word Falguni means beautiful.
Falguni mangalsutra is a very beautiful design that is the fusion of the floral and modern design styles. It's a simple arc-shaped pattern with the florals nested beautifully in it.
This is a perfect mangalsutra for anyone that loves simplicity and elegance. 
23. Gana Diamond Mangalsutra
Gana Mangalsutra is designed keeping in mind the idea of marriage is coming together as a group of people. A group of families and friends of the married couple.
The concept is also derived from a group of diamonds placed in a geometric circle shape.  The pendant is then connected to the black beaded mangalsutra chain.
This is a design that you can flaunt at work or parties.
24. Krisha Diamond Mangalsutra
Krisha diamond mangalsutra is a simple mangalsutra design that is divine and pure.
I really love this arc-shape that you find in mangalsutra designs.
Since we are talking about simple daily wear mangalsutras, I re-designed this arc-shape to be a bit confined and petite.
25. "Sacred Tie" Diamond Mangalsutra
Getting married is a "sacred tie" that gives a relationship a meaning and commitment to each other. This mangalsutra design is evolved from the concept of this sacred tie using gold and diamonds.
It's a very sleek and simple design that you can wear daily. Simple shape with just the right amount of diamonds to make this a timeless piece of jewelry. 
26. Blossom Diamond Mangalsutra
Blossoms have always known to add freshness and color. Every woman loves this feeling when she looks at her jewelry.
The blossom of a flower has been my inspiration behind this mangalsutra design. The petals are studded with diamonds and made of 18K gold.
27. Rina Diamond Mangalsutra
Rina mangalsutra is designed for simple, modern brides out there.
This mangalsutra is made with princess cut diamonds arranged in a square motif. It is classic and beautiful piece.
Perfect mangalsutra if you want to wear it to work or evening events. 
27. "Moments of Life" Diamond Mangalsutra
Moments of Life is a simple mangalsutra design that consists of seven diamonds that represent the saptapadi (seven promises).
The bride and the groom make these promises or vows as part of the wedding ceremony.
It's such a dainty and simple mangalsutra design that you can wear it daily without having the fear of the mangalsutra being too overpowering.  

28. Dew Mangalsutra
Dew mangalsutra has an elegant shape of a dewdrop.
It's the classic pear-shaped diamond pendant, just like a dewdrop on your neck.
A simple and beautiful style if you are looking for something that's a timeless shape and can go well with both Indian and western outfits.  
29. Mehar Mangalsutra
Mehar means to love and friendship.
Since marriage is a relationship that requires both love and friendship for it to be its best. 
30. Neysa Diamond Mangalsutra
Neysa means pure. Marriage is the purest relationship as it is selfless and giving towards each other.
The relationships become stronger day by day.
Neysa mangalsutra was designed keeping in mind pure forms like rounds and rectangles.
The mangalsutra features different diamond shapes connected to form a beautiful pendant that is simple and charming.
31. Valentine Diamond Mangalsutra
Valentine means beloved. This design is evolved from a simple V shaped pendant.
The intent here was to create a diamond and the gold beaded pattern arranged in a small motif.
This piece is a symbol of love and style. You can wear this daily or during special events.  
Friends, I hope these mangalsutra designs have inspired you today.
Do you have a favorite simple mangalsutra design? If so, which simple mangalsutra did you love the most?
Let me know in the comments section below.
October 10, 2022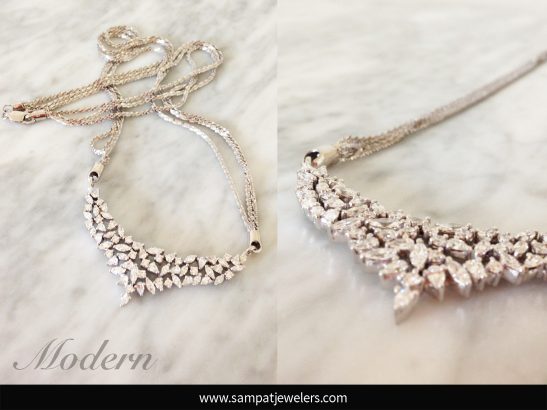 October 10, 2022
October 10, 2022