Mangalsutra is an important jewelry piece in a married woman's jewelry collection.
In this article, I will be going over the Latest Mangalsutra Design Trends that you will love. Before we do that download this checklist below to help you get the perfect mangalsutra.
Let's get started.
Rose Gold Mangalsutra Designs
:
The use of rose gold in mangalsutra is more popular than ever as rose is a symbol for unconditional love and luxury.
The fashion industry has a long history with rose gold.
Rose gold is precious metal that has a different look and feel in comparison to traditional Indian polished yellow gold. Copper and silver are added to pure gold alloy. This forms rose gold. 18K rose gold is my personal favorite.
Our Lotus rose gold mangalsutra is stunning piece with a beautiful pendant that is a reminiscent of the Indian culture.
At the same time this piece has a modern and elegant look.
If you're someone that loves simplicity, this mangalsutra is for you. 
Arc Mangalsutra in rose gold is a contemporary design for a woman who loves modern and simplistic styles. This design is perfect for office and everyday wear.
A rose gold and diamond mangalsutra can be the most romantic piece in the jewelry box. 
Art Deco Style Mangalsutra Designs
Art Deco style was a movement in decorative arts.  It gained popularity in the 1920s and 1930s.
It combines modernist styles with fine craftsmanship and rich materials.
Such style represents luxury, glamour, exuberance, and faith in social and technological progress.
Art Deco is influenced by the bold geometric forms and bright colors.
Although you may have not heard of a term Art Deco Mangalsutra, this style brings a new character and style that you should consider.
It's modernist and with interesting forms and proportions. It's perfect for a woman who loves to try different things and is a trendsetter.
This is a great example of an Art Deco Style Mangalsutra. The patterns are inspired by the Art Deco line, and solid geometric forms, making it modern, simple, and unique.
Fancy Cut Diamond Mangalsutra Designs
Fancy cut diamonds are diamonds which are not round in shape.
There are many diamond shapes available such as pear, marquise, oval, baguette, emerald cut, cushion cut, and heart-shape.
You may have a preference for diamonds customized and tailored to your taste. Most people falls in love with certain shapes that become an important part of their personal style and identity.
Fancy cut diamonds give individuals the option to choose a gemstone that reflects their unique aesthetic, so it makes sense that fancy cuts are gaining popularity in this age of personalized and unconventional fine jewelry.
Below is another modern and timeless design for a diamond mangalsutra.
It's one of our signature styles and extremely popular. If you love statement pieces, this is definitely the one to go for. 
Have a look at out our Swan Diamond Mangalsutra.
Another mangalsutra design below has fancy cut diamonds to create a  lace like composition. There are black beads only near the pendant, and the rest of the chain is 18K gold.
It's a creative design around black beaded chain. This make the mangalsutra more wearable at work and also special occasions.
Charm Mangalsutra Designs:
Charm style jewelry is one of the oldest styles of jewelry.
The trend started with charm bracelets and slowly transitioned into neck pieces.
Traditionally a woman brought a simple mangalsutra chain. She then chose and added special charm designs to add a personal meaning to her piece.
There is a long history on how they were introduced by ancient Egyptians in 3000 BC. Here's an interesting NPR interview about the History of Charm Bracelets.
Charm mangalsutras are a relatively newer concept.
It's basically a mangalsutra chain with beads or without beads.
You can add any number of charms as desired.
Each charm has a special meaning and sort of a glittering billboard of one's hope and dreams. 
Gold and diamond charms of the moon and stars are beautifully laced on a 18K gold chain with a hint of black beads. This gives it a bit of a boho look.
This is an interesting way to have you mangalsutra set up so that you can change the charm based on the current life event or mood.
The Petal simple diamond mangalsutra design below has a characteristics and a look of a charm necklace.
The individual diamond charms pieces are permanent.
The charms are arranged like hugging your neck.
It's an extremely playful design and unique in comparison to traditional mangalsutras that you may be familiar with.
If you like to be different, love some extra bling, and are more playful with your jewelry, this style is perfect for you.
Precious Gemstones Mangalsutra Designs
Mangalsutras will incorporate more natural gemstones like amber, ammolite, emeralds, and other precious or semi-precious gemstones.
Gemstones provide color and personality to any piece of jewelry.
You can use gemstones in creative ways. For example, you can choose to add your birthstone or your partner's birthstone in the mangalsutra.
Below are sketches of  some of the pieces in the works with rubies and emeralds.
Although the design is like a traditional mangalsutra, the addition of the gemstones gives it more of a character and personality.
I hope this article was helpful to you when it comes to choosing the right mangalsutra for you.
Although these are just a few designs to demonstrate the trends, there can many more designs of a mangalsutra.  
Would you enjoy wearing a custom mangalsutra? Learn more about our custom mangalsutra process and contact us today to get your very own mangalsutra design. 
Also, checkout this detailed mangalsutra buying checklist that you will surely find helpful in your journey. 
October 10, 2022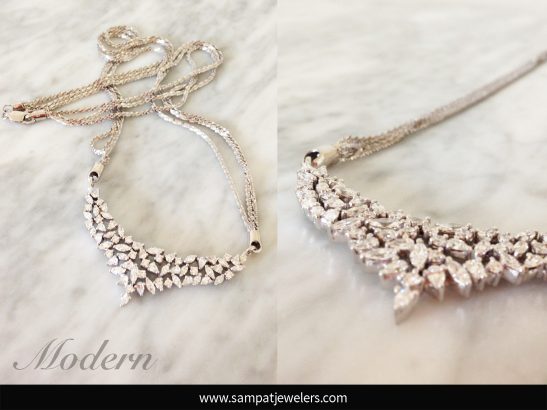 October 10, 2022
October 10, 2022